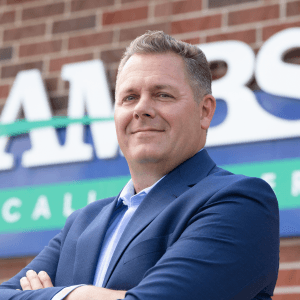 How to Select the Right Answering Service Plan
---
"Which
answering service plan
should I choose?" It's a question that we're often asked. The short answer is it depends on how you will use the telephone answering service.
Here are some tips on how to make an informed decision on what plan is right for you when signing up for using an answering service.
Determine Answering Service Call Volume
The number of telephone calls the answering service handles is a key driver in picking the best plan.
If you are currently using a service provider, this information should be very easy to find. Ask for an incoming call report that spans an entire month. If your business is seasonal, ask for two examples, one during your peak time and one during slow season.
The best answering services will allow you the flexibility to change plans to match need.
If don't already have an answering service, there are a couple of options of how figure out your call volume.
Many phone companies, especially VOIP phone providers, offer detailed call reports. These are a great way to
accurately
determine how many calls you receive.
If your phone company or phone system can't help you with reports, it's time to go old school. Create a quick spreadsheet or a legal pad and have your team log calls for a week. Multiply by four and you will get a reasonable representation.
Caution! Make sure to only include calls during the hours of when you want the answering service to take calls. Otherwise, you'll over estimate the plan that fits your needs.
Types of Phone Calls Matter
While the number of phone calls you receive is important, it doesn't tell you the whole story. The type of call you receive is of equal importance.
Here is a rough estimate of call duration by call type. Your mileage will vary based on your specific needs.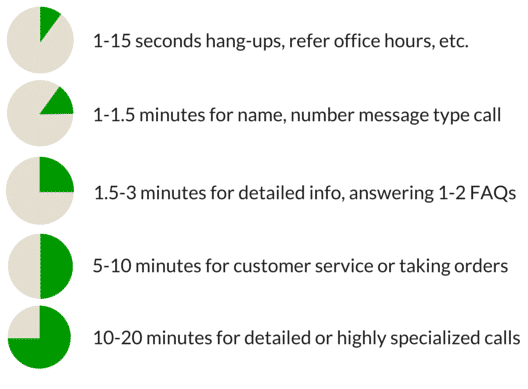 If you find that you receive a lot of calls where people request office hours, directions or need answers to FAQ, adding a greeting in front of the operator might make sense to reduce your costs.
When Will you Use the Answering Service?
Since most call centers are available to provide service to you on a 24/7 basis, you'll want to consider when you will want to call forward your phones.
During hours
After hours
Weekends
Holidays
Many find that having the call center back them during the day is a great way to make sure the overflow phone calls get answered.
You can control when calls are sent to the answering service using call forwarding features on your lines.
Consider using call forward no answer if you find that your phones are ringing off of the hook.
If you get complaints about busy signals, use call forwarding busy to the last line in your rollover group to send calls to the answering service.
Daytime coverage is an inexpensive way to cover the phones without adding staff or extra phone lines. You will definitely want to budget more minutes for overflow and watch your usage and adjust accordingly.
Will Your Staff Need to be Contacted?
Chances are that some of your calls might be urgent.
The answering service can follow your instructions to make sure the message gets to the right person fast
.
Most modern call centers offer many
different options
for message delivery.
Using text messaging or email is hands down the most efficient way to receive urgent messages
.
Placing telephone calls to your staff eats though your minutes faster than any other message delivery option
. By a factor of 5x!! If you're on a budget
, consider using telephone calls as a secondary escalation step.
Staff responsiveness will also reduce the amount of minutes that you need. If the answering service needs to 'chase' people to respond, you can expect a higher bill at the end of the month.
Not a Psychic? No Need to Worry
Unless you've used a call center before, trying to pick the correct plan that fits your needs can be a challenge.
Hopefully
these tips have given you some food for thought about what's best for you.
A bit of good news, you'll find the friendly answering services will
monitor
your usage for you. This way you're sure to get the best deal possible.
If you found this helpful, you may also enjoy reading: