The Best Answering Service Quality
If you've been Googling call centers, you've probably found no shortage of companies touting their call center quality and 'award winning service.'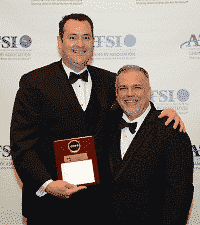 Ambs Call Center also offers award-winning answering service, as you might have guessed. However, our reasons for participating in excellence programs isn't for a trophy or a nice logo to put on our website.
How Answering Service Quality Works
It is extremely important to us to provide the best telephone answering services to you. It's something we take very seriously.
So much so that we have a full time staff dedicated to evaluating and coaching our team. They listen to call recording and grade them on various components to ensure the caller experience is second to none.
Each of these programs make random calls throughout the year to rate how we are performing.
The reason we participate is because our quest for improving quality never ends. We always want to be held to a higher standard. While our dedicated quality department that does a great job coaching our team, we also want outside perspective and feedback.
Here are the areas that are covered some of the areas that we focus on to provide you with the best answering service possible.
Speed of Answer

This is one of the most important items as you never get a second chance to make a great first impression. It measure how quickly the telephone call answered.
Telephone answering services must have enough staff on hand at the right times in order to provide excellent service.
A successful passing score on this category is that the call is answered within 3 rings, or 18 seconds, by a person. If a call rings longer than this, it is out of tolerance.
Friendliness to Your Callers

We measure the friendliness of our team when they speak with your callers. It all begins by answering your phones with a smile in our voice.
Throughout the call we make sure to use at least two pleases and a thank you. When concluding the telephone call, we give the caller a 'reassuring close' to the call to give them peace of mind that their needs will be met.
Accuracy of Call

Being polite and friendly when answering your phones is important. Making sure we are gathering accurate information for you is of equal importance.
We verify spelling, telephone numbers and pertinent information. This ensures that you get clear and accurate messages.
Our grading categories include:
Agent offered to help or assist the caller.

Caller is advised how the message will be handled in a clear and professional manner any time during the call.

Spelling of caller name and other information is verified.

Telephone numbers are repeated for accuracy.
Gathering all information required by the answering service customer.
Knowledgeable of Your Business

It is very important that we are knowledgeable about your business and how to serve you.
We test our team to make sure they are know how to handle your phone calls, which questions to ask and if needed, how to escalate important calls when it's urgent.
In short, we want to make sure we are living up to your expectations.
Overall Impression of the Phone Call

In short, it's the 'wow' factor. We've all heard about the importance of customer service. This implies we are simply serving the customer's need and nothing more than that.
Our answering service strive to go above and beyond caller expectations.
When possible we like to deliver extra value to our customers in the least expected ways. One of our favorite companies to emulate is Zappos. They built their business around providing customers with a fantastic experience. At Ambs Call Center, it is our goal to do that for your business.