Electrical Contractor Answering Service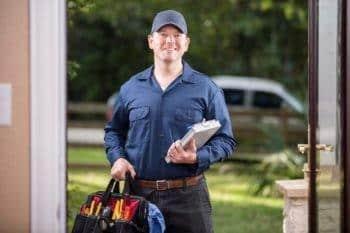 As an electrical contractor, the cost of missing out a job can be shocking. Ambs Call Center's answering service for electricians makes sure you're plugged in 24/7.
Chances are your days are hectic. Juggling projects, preparing quotes and staying on top of your job sites is hard work.
We make your life easier by making sure your phones are answered.
Our friendly and professional virtual receptionists are ready to answer your calls. It's great for when:
You're busy on the job site.
Your staff needs help with overflow or gap coverage.
You want to make sure phones are answered after hours, weekends and holidays.
Ambs Call Center is family owned and 100% US based.
How Answering Service for Electricians works
Call Forward Your Phones

You can call forward as many different telephone numbers to us as you wish. In addition to your office phone number, feel free to send calls from your cell phone or home phone if you wish. No extra charge.
You can have us answer anytime you want. Overflow, after-hours, and when you need to run some errands around town. We're here when you need us.
Your Telephone is Answered with a Smile

Our friendly operators at Ambs Call Center will answer the phone in your company name with a smile in their voice. First impressions count. It will do wonders for your electrical contracting company.
We have a great team that has been trained on all the customer service techniques that are important to deliver results for you.
Capturing New Business, Serving Your Customers

Your callers will be treated to a first class experience from our telephone answering agents.
If you're like the other electrical contractors that we serve, you likely get many different types of calls. Ambs Call Center will have all the details and information to handle your calls the way you expect us to.
Capture new leads
Take messages
Handle service calls
Dispatch urgent calls to the on-call electrician
Schedule appointments
The possibilities are endless!
Custom Call Handling for Electrical Contractors

All calls aren't created equal. We can sort our calls for you based on if the job is residential, commercial, or industrial. Custom scripting that follows your exact instruction puts our team in a great position to succeed for you.
We can drill even deeper to find out more details for you. Is the cal for a new or existing construction? Is there an emergency repair that needs swift resolution? The questions we ask are completely up to you.
Take advantage of our proven process for call handling using industry best practices. We've developed it drawing on our several decades worth of experience serving electrical contractors.
Receive Your Messages and Emergency Dispatching

Receive your messages anywhere and anytime you wish. Ambs Call Center offers many different types of answering service message delivery options. Depending in the type of call, you can choose different delivery methods.
For example, emergency calls can be dispatched to your on-call person via text and phone call. From there we can call down a list of your staff to make sure your customer's needs are satisfied.
Reports to Help You Manage Your Business

You have real time access to your messages via our myAmbs web portal.
You can even listen to the calls online. Service level call reports show you just how quickly we answer your phone.
Automatic reports can be sent to you via email or fax according the schedule that you choose. Receive messages and call reports in real time or according your wishes.
Our Most Popular Electrician Answering Service Options
Here are a few of our electrician answering service options that other electrical contractors really like using.
Secure Text Messaging App

Technicians love receiving all of the details via text message. They can even text back to you. Our secure texting app let's you clear calls from us with the press of a button.
This saves your on-call electrician time by not having to call in for messages. It also reduces your costs.
Web On-Call

Our Web On-Call app makes updating who's on-call a snap. You can create your on-call schedule in seconds.
Share it online or print out a beautiful looking calendar for your team.
When you make changes in the web on-call, it will instantly update telephone agents. You'll never need to call, email or fax in changes ever again!
Customer Database Look-up
Your

customer information is already filled in when they call. It gives your customers the added personal touch of already knowing who they are.
The customer feels valued, and as an added bonus, it also reduces your answering service costs.
Staff on Demand
Ambs Call Center's answering service for electrician can act as an extension of your staff. Think of us as "staff on demand." We're here to help you answer opportunity when it calls.