A common example is "Good morning, ACME employee reporting service, this is Julie how may I help you?" No phone trees or automated messages that take a lot of time and effort to figure out.
Do you already have a phone number you'd like to use? If desired, an existing number that is already in use can be redirected or ported over to the call center. Easy.
Detailed Documentation of Employee Absence
If there is one thing that everyone knows in human resources, it is the importance of proper documentation.
This is especially true when it comes to employee attendance records. This is why every aspect of the employee call off is documented with the utmost precision. Employees are asked a series of questions that are customized to your specifications in the call center software. Based on responses, follow up questions can be asked to gather additional information. A good example are follow-up questions if the employee is requesting FMLA leave. Again, since this is all done via conversation, it will feel easy and natural for your employees.
In addition to the information gathered on the call, the audio of the conversation is also recorded. The recording can be accessed via our secure web portal. This added level of documentation eliminates any guesswork about what was said (or not said!) on the call. It's great to have that type of backup should there be any future dispute.
At the conclusion of the call, the employee is provided a confirmation number by the call center agent. This is a unique number that is tied to the specific absence. Employees and unions appreciate this assurance as does the team in HR. Everyone is on the same page and it eliminates disputes before they ever happen.
Common documentation of employee call offs includes:
Employee name
Phone
Caller ID
Clock Number
Plant number
Department
Supervisor
Late/Absent
Date of Absence
Shift Supervisor name
Return to work date
Reason for absence
Are you requesting FMLA
FMLA reason
Additional comments
Again, this can be customized to suit the unique needs of your business.
Enhanced Employee Absence Reports
This is the part that the HR department, supervisors and the operations team will love.
Documentation of the employee absence is only half of the story. Chances are your supervisors, team leads and floor managers need to know what their staffing looks like for the upcoming shifts. Real-time alerts and reports give them 360-degree visibility on absences by date, shift, department, and virtually any other data point.
Here's a snapshot of the myAmbs portal, which gives your team real-time access to absence information, call recording and reports.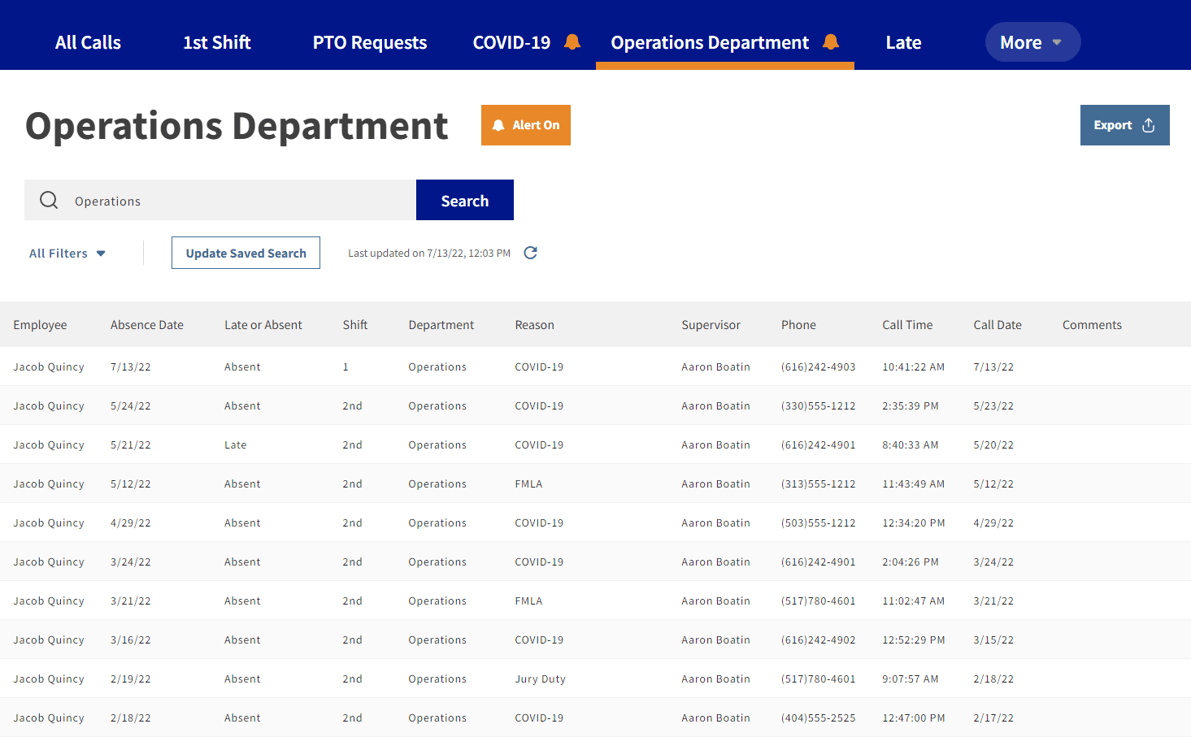 Call Record Report
Need to see historical data for sick days and other absences? Pull up the Call Record Report, which is equipped with several filters to help you slice and dice the data you need. Search for call offs based on employee name, employee ID, confirmation, shift, absence date or call date
Daily Employee Call Off Report
Search by employee name, employee id, shift or by absent date range.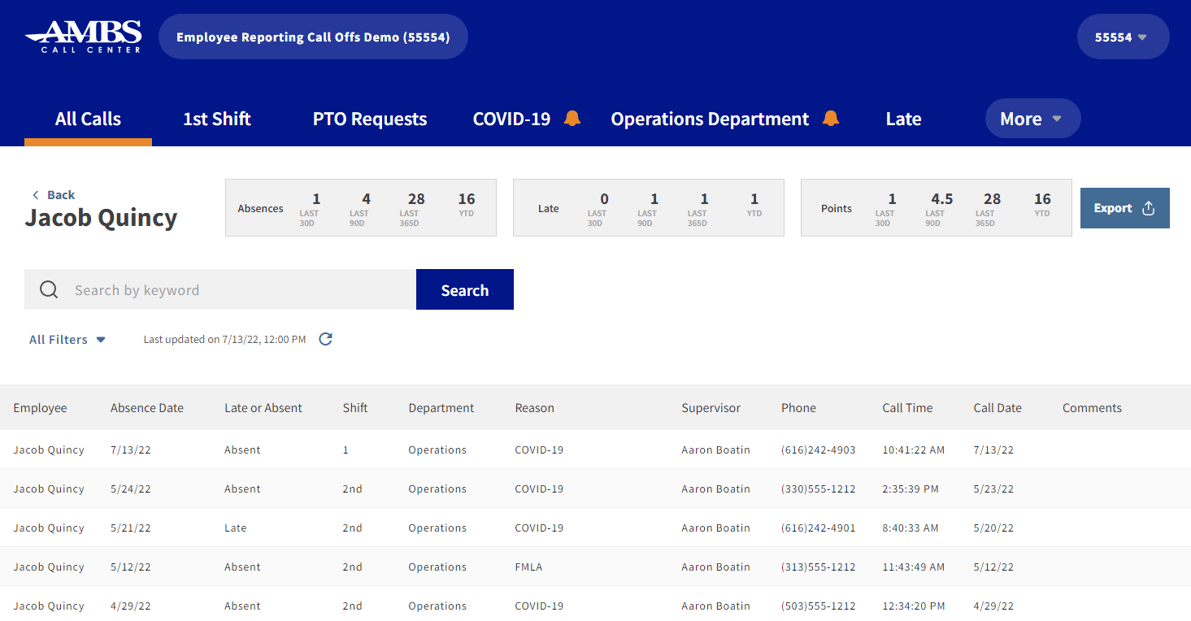 Employee Call Report
Search for call offs by a specific employee.
Employee Total Report
Search by employee name, employee id, shift or by absent date range.
Audio Recording of Call Off
All employee absences are recorded and available via the secure web portal. Access can be limited by credentials to ensure privacy.
Absence Notification Alerts
In some cases, you need to know about an absence immediately. Employee Reporting Service provides immediate notification to supervisory staff and is imperative to ensure that production continues. Call off information can be sent to the specific teams or departments where the absence occurred. The notification methods can be customized by facility needs—phone call, text, and email are examples. Whether it be by time of day, department or job type.
Here are the most popular methods of notification:
Secure Text Messaging - If confidential PHI needs to be texted, use secure text messaging to encrypt the message. This allows you to meet certain compliance requirements that your company may need to adhere to.
Standard Text Messaging - We can send a group text or send to individuals.
Standard and Encrypted E-mail - Absences can be sent to groups or individuals as received or at specified intervals. We also encrypt our email messages to provide you with peace of mind that your information is as secure as possible. It's also an absolute must for HIPAA compliance.
myAmbs Web Portal - You'll see real-time absence on our web portal. You can mark call offs as handled, forward via email as well as sort, filter and export information. The web portal is mobile-optimized for smartphones and tablets.
Online Audio Recordings - Our online voice logger lets you listen to and download the inbound and outbound calls that we make for you. We can also record the conversations after we do a direct connect call patch.
Pagers - We support both text and numeric paging to all carriers. We also offer a message assurance option, where messages are sent via pager and cell phone simultaneously if paging coverage is an issue.
Telephone - We can call you to relay information by phone. We'll provide a unique caller ID just for your account so you'll know it's us calling with important information. This is a good option if you don't wake up to a text message when you're sleeping.
Fax - Employee absence reports can be faxed as received, or sent as a batch on the days and times that are most convenient for you.
Data Exchange
Employee Rosters - Our Employee Reporting Service also supports data feeds and integration from all popular payroll solutions. This allows for employee data to automatically import when an absence is being logged. Employee name, clock number, supervisor and department are common examples of information that can be linked to payroll software.
Employee call off information can also be exported, as well as support a real time data feed.
So there you have it—while the above section is not entirely exhaustive of the capabilities of the Employee Reporting Service from Ambs, it gives you a good idea of how you can tailor the service to the unique needs of your company.