HIPAA Compliant Answering Service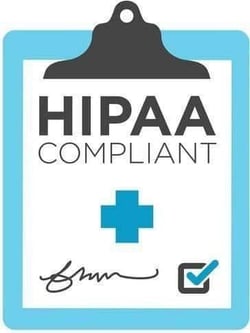 For those in the healthcare industry, meeting the privacy expectations of HIPAA is a primary concern, both
legally and ethically. A HIPAA compliant answering service is critical.
At Ambs Call Center, we share your concern and have taken extra measures to go beyond the standard expectations of securing your patients' PHI (Protected Health Information).
We stand behind you, the CE (covered entity), as your trustworthy BA (business associate) to ensure you're in compliance with HIPAA regulations.
As your call center fiduciary, we take every step to make sure you meet HIPAA requirements and your patients' expectations in the way we answer patient calls, store their information, and communicate key data to you.
Not every call center or answering service can say this, but Ambs Call Center can.
Secure Text Messaging
Texting is easy, ubiquitous, and unsecure. No one should ever send PHI in an unsecured text, yet too many call centers disregard this critical requirement and subject themselves to a serious point of failure.
With Ambs Call Center's secure text messaging app, text messages and attachments are encrypted when they are in transit ("data in motion") and when they're at rest on devices ("data at rest"). Messages can even be set to expire after a preset time or condition for added security. If a device is lost or stolen, your authorized admins can remotely erase secured messages.
SM+ is that good. You can depend on it, just as you depend on us.
Encrypted Data at Rest
In information technology jargon, "data at rest" refers to digital information as it resides in a storage medium, regardless of the form or format it takes, such as databases, spreadsheets, archives, long-term storage media, and off-site backups. Data at rest also refers to information sitting on mobile devices.
Ambs Call Center encrypts all data under our control when it's at rest. And, by using our secure messaging plus platform, the information we send to users' mobile devices is also secure.
Secure Web Portal
The myAmbs Web Portal gives healthcare organizations confident and secure access to an array of powerful applications that allow you to view data and reports, retrieve messages and information, update contact information and on-call schedules, and access our Web Appointment Scheduler.
Real-time access is available from any computer and uses responsive design so it looks great on your phone or tablet.
Centralized Onsite Staff
In addition to ensuring that we meet and exceed HIPAA requirements, 100 percent of our agents work onsite, with direct supervision.
Ambs Call Center does not allow work-at-home agents or offsite call processing, thereby ensuring that your patients' PHI never leaves our premises until it's time to securely communicate it to you.
Though we trust our staff completely, we take this additional, extraordinary step so that you can place your complete confidence in all we do for you.
The Ambs Call Center Difference
Ambs Call Center is fully HIPAA compliant so that you can have full assurance that you've selected the best BA to handle all of your call center needs.