Secure Text Messaging for Healthcare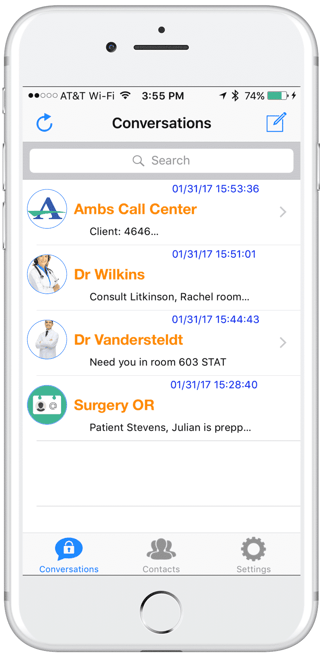 Secure Text Messaging makes it easy for healthcare providers and staff to text each other via an encrypted smart phone app. All messages are sent and stored in a secure server where they can be checked easily by the receiver.
The messages can be simple exchanges of words, or they can include attachments of patient charts and other visual information, or even audio clips if the sender has any personal observations or commentary to share.
One Tap Check-In
Seconds count when it comes to caring for patients. Clear your messages from Ambs Call Center's answering service right from the app.
Reduce Costs
No need to carry multiple devices. Your office can finally phase out pagers, another distracting electronic device. Reduce medical answering service minutes by receiving all the details without having to write it down or call in.
Startel Secure Text Messaging only $4.95 per device per month.
Message Confirmation
This lets senders know when a text was received and read. This can be a handy feature for urgent needs and official correspondence and also makes sure the intended person received your message.
Sync Multiple Devices
Your secure text messages can sync on up to three devices. Perfect if you use multiple phones or tablets. You can also view and send secure text messages from our secure web portal.
Makes BYOD Possible
This business trend is short for "Bring Your Own Device," and refers to some people preferring their personal phone for work and for home, instead of a separate phone for each world.
It's an increasingly popular corporate policy that has some security experts concerned, but offers advantages to companies who don't want to issue phones and for people who are more comfortable having their data in one place.
HIPAA Compliant Text Messaging
Message Expiration
A big fear of physicians – and HIPAA compliance officers – is what happens to old patient information. What if someone forgets to delete old texts when they change phones and someone else ends up with it? With Startel Secure Text Messaging you can choose how long a message can remain in on your device.
Remote Wipe
Another fear is what happens if a mobile device is lost or stolen. Even if it's properly locked, determined people can often try to figure out a way into them, and any patient records. With a single command, you can erase all the data on the device that would be accessible to anyone now in possession of the device.
Message Status Tracking
You can track when your message has been sent, viewed and read by the recipient. No more guessing if they got the message.