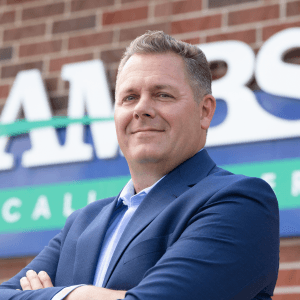 5 Best Answering Services for Small Businesses (Ratings/Reviews)
Do you find yourself struggling to keep up with the things on your to-do list to keep your business running? Do you feel like you're on a treadmill where you can't afford to jump off to work on the business instead of in it?
That's where using an answering service for small business can free you from being tied to the phone so you can get some work done.
For small businesses needing help with answering incoming phone calls 24/7, using a telephone answering service can make a lot of sense.

You're likely going to research answering services to find the perfect fit for your business's needs. We are very proud of our family-owned answering service. We understand that you might want to consider all your options before selecting an answering service.
Often we are asked, "If we don't use Ambs Call Center, who would you recommend?"
As a family owned answering service, it's in our DNA to be honest with our customers. Which is why we've created a list of five of the best answering service providers that you may want to consider.

So, let's dive into some details about the 5 best answering service companies.
1. Ruby Receptionist
Ruby Receptionist was founded by Jill Nelson in 2003 and then sold to Updata Partners in 2014. Ruby Receptionist focuses on providing virtual receptionist services from their Portland, Oregon location. They've done a good job of promoting the value of having a friendly person answering your phones around the clock.
2. NEXA
NEXA began offering telephone answering services in 1982, when Mary Jones, founded Answer1 in Phoenix, AZ. Since Mary's retirement, NEXA has purchased other family-owned answering services. 100% US-Based telephone answering agents, live answering service, appointment scheduling, and intake services.
3. MAP Communications
Map Communications started answering calls in 1991. They are based out of Chesapeake, Virginia and have many locations across the United States. MAP utilizes a home-grown software called ECHO to take messages. They offer nationwide phone answering, and live receptionist services and offer a 7-day free trial.
4. Answer First
Answer First is based out of Tampa, Florida and they began answering phones in 1988. They offer 24/7 Answering Service, dispatching service, message taking, appointment scheduling, security monitoring, and have a web portal for viewing messages.
5. Answering Service Care
Answering Service Care, which was founded in 1974, is headquartered in Margate, Florida. They are a family-owned answering service like us. They serve medical, real estate, funeral, and legal industries.
How to Choose the Best Answering Service to Work With
So there are 5 other answering service companies for you to consider if you're getting quotes.
Here is a list of questions to ask so you have a better understanding of how they will be able to answer your phones. There are many things to consider when selecting a telephone answering service. Hopefully these give you a good starting point.
How long have they been in business?
How quickly do they answer their phones?
When calls are on hold, how long will the caller have to wait?
Are they family owned or beholden to venture capital backed investors?
Do they outsource and are they a 100% US-based answering service?
The important thing to remember is to make sure that you are a good fit for one another. Always trust your gut.
Tip # 1 Beware of Same Day Activation
You wouldn't hire a new employee and turn them loose with less than a day's training, right? The same holds true for the service that you select. They will be the front door to your business, brand and reputation.

It's critical to make a great first impression. It starts with a knowledgeable person on the other end of the phone line. Expect typical on-boarding time to be 3-5 business days.


Tip # 2 Does the Answering Service Have Experience Serving Companies Like Yours?
Do they specialize in your industry? If the they do, chances are you will be able to take advantage of some best practices from their years of experience. It also means you will not have to babysit them to bring them up to speed on basic items when handling your calls.


Tip # 3 Make Sure They Care About Quality
Websites and brochures are great at touting quality and excellence. Trust, but verify. Inquire how they ensure the quality of the service that they provide to you.

Most reputable firms should have a full time internal call evaluation program. These programs listen to calls and coaches agents on how to improve.

As they say, customer service is a journey, not a destination. Ongoing coaching helps to hard wire service excellence. If possible ask to speak with them to learn what goes into an evaluation.
Tip # 4 Confirm they have Multiple Locations and Power Back-up
Makes sense right? When disaster strikes or the power goes out, they need to be available to take your calls. Confirm that the back-up power solution is a fixed unit with automatic fail-over and doesn't run on gasoline.
Tip # 5 Make sure "He Said, She Said" is a Non-Issue with Call Recording
Call Recording. It's a great tool to have if you receive feedback about a call that the service handled for you. It makes sense to work with a service that documents your calls. Be sure to inquire how you can access these recordings when you need them.
Tip # 6 Use a Family Owned Answering Service
Would you rather work with a company that reports to you or to their private equity investors? Be sure to ask if they are family-owned or if they are part of a venture capital investment portfolio.

Many times venture capital companies buy several services and then merge them. This adds to their bottom line, but not always the quality of service you receive.

You'll find most family owned services have a more hands-on approach and a vested interest in your success.
Tip # 7 Stop in for a Tour
You can tell a lot about a company by making a visit to their offices. During your visit, ask to meet with the person who will be handling your account on a day-to-day basis.
Many companies look great on the web but in real life the actual presentation may surprise you.

These days, a site visit may not be feasible. Ask to get a virtual tour via Zoom or FaceTime.
So there are the 5 other answering service companies to consider if you're getting quotes for an answering service.

You may also like to take a look at some of these great resources:


At Ambs At Call Center, we're always here to help. Please feel free to contact us 24/7 and we will be happy to answer any questions you may have.