Grow Your HVAC Business 24/7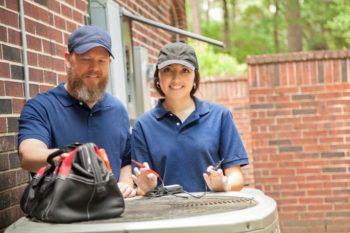 HVAC answering service is a great solution if you need help with answering after-hours service calls. It's also a great tool to make sure that you capture all the leads from your advertising.
Ambs Call Center is here for you 24/7 to help cover your phone calls and to help your business grow.
Our telephone answering service agents will handle your calls expertly with professionalism and enthusiasm.
We'll follow your exact protocol for dispatching emergency service calls. Sales leads and routine calls will be captured and delivered to your team for follow-up.
Our goal is to make sure you get a good night's sleep knowing that your calls are in capable hands.
HVAC Answering Service Features
Real-time Access to Service Calls

You can track service calls in real-time and measure response time with myAmbs client web portal. It even allows you to listen to the audio recording of the call.
Dispatching App for Technicians
Our secure text messaging app lets your technicians receive and clear service calls on their phone or tablet. It eliminates the hassle of checking in to clear calls and saves you money.
Web On-Call

Our Web On-Call let's you easily update your on-call schedule even from your phone. Changes are instantly update our team so we always have the latest information.
Customer Look-up

We can automatically import customer information for a premium level of customer service. A great option if you want to verify after-hours service contracts before getting the trucks rolling.
Our heating and cooling answering service is built around the way you operate your business. Since 1934 we have been working with the best and brightest in the industry. Our proven process for call handling will you a competitive advantage in your market. We can provide best practices for answering HVAC service calls, drawing on 82 years of experience.