Answering Service Careers with a Family Atmosphere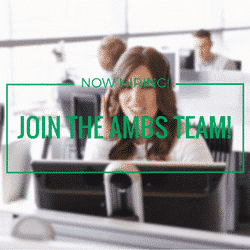 Ambs Call Center is a family owned and operated business. We take great pride in providing our clients with personalized, high-quality telephone answering services. We are a 24/7 privately owned call center. We help our customers communicate better and run their businesses more efficiently.
To accomplish these goals we need to hire and retain talented and motivated individuals in our organization. If you thrive in an environment that values employee development and goal achievement, Ambs Call Center is the place for you!
Open Positions
Telephone Answering Service Agent
We are looking for an Answering Service Agent. One who is a better listener than talker. This is important as we gather extremely important information for our clients.We also would like someone who has a passion for delivering quality results in a timely manner and is responsible for positive customer interactions. If this sounds like you, please read on.
Primary Responsibilities:
Processing calls with the aid of a script
Meeting Association of TeleServices International standards
Determining the appropriate information to relay to the customer
Monitoring the action queue
Completing required training
Qualified Candidates Must Demonstrate:
Exceptional attention to detail
Superior problem solving skills
Commitment to maintaining a positive experience for the customer
We are currently hiring call center agents in our Tampa, Florida and our Grand Rapids, Michigan call centers.


To ensure the best quality for clients as well as HIPAA compliance, we do not offer work from home positions. Thank you, we look forward to hearing from you!
Ambs Call Center is an equal opportunity employer.