Take Control of Your Employee Absence Policy and Management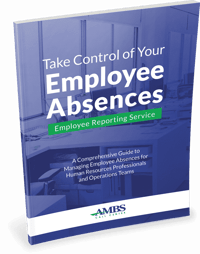 Employee absenteeism, both planned and unscheduled, can have drastically negative effects on an organization. It causes a snowball effect on the overall productivity and efficiency of a company. Download this guide to learn how your human resources department can improve employee absence management.
You'll Be Able to Answer These Questions:
What does an unplanned absence cost my organization?
Why can absenteeism increase administrative expenses?
What can an effective employee absence policy do for my managers?
How can an employee reporting service help increase productivity?
How does Ambs manage employee reporting services?