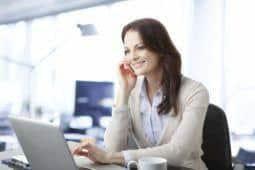 Free up your time to focus on getting work done instead of being tied to the phone using a virtual receptionist. Our cheerful receptionists will make sure your phones are covered so you can focus on working on your business and not in it. Think of our us as your friendly staff on demand.
How Virtual Receptionist Service Works
Call forward your existing telephone number (or use ours) to a local or toll-free number.
Our live virtual receptionists answer with a smile in your company name.
We'll assist your callers by answering frequently asked questions, scheduling appointments, and providing information.
Your calls are transferred and messages delivered based on your personal preferences.
Depending on the type of call, our virtual receptionist can follow specialized instructions.
Customized Call Routing
Ambs Call Center works with you to develop a specific protocol for handling calls. You can use us on a 24/7 basis, on-demand, or have us back you up with our overflow service. Whatever your needs are, no matter how complex, we'll deliver excellent service.
Call Transferring
We offer several ways to connect callers to best suit your busy lifestyle.
Warm Transfer—Our live receptionist announces who is calling before connecting them to you.
Meet-Me Transfer—We'll text you the caller's name along with a bridge number that connects you to the caller.
Blind Transfer—Calls transferred to you without us announcing who is on the line.
Appointment Scheduling
Don't miss out on the opportunity to schedule appointments! We can schedule appointments for you 24/7 using our online appointment scheduling software.
Personal Voice Mail
Our virtual receptionist service also includes personal voice mail. Our receptionists can offer callers the option to leave a message for you in your voice mailbox. You can record and update your greeting as often as you wish. If you'd like, you can even receive a text alert or email with the audio message attached.
Update Your Status On the Go
Change call routing instructions in real-time using our web on-call app. It's a great tool that ensures the right person gets the call every time.
Virtual Fax
If you need a fax number but don't want the expense of a dedicated line, our virtual fax mail service is a great addition to our live virtual receptionist service. It's also ideal for receiving faxes on the go. Virtual fax will take your incoming faxes and send them to you as an email attachment.