Subscribe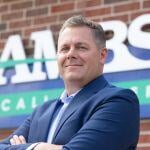 Secure Messaging App is Now Available!
We're excited to announce the release of our Secure Messaging application. It is a powerful enterprise paging and messaging application built for Apple iOS , Android and Blackberry mobile phones and tablets. It can replace or supplements current paging technology and enables instant two-way communications.

It is ideal for organizations where HIPAA compliance is a necessity or sensitive data needs to be securely delivered to mobile devices.
When the recipient receives a new message alert, the secure message can be viewed instantly using the secure messaging app. The secure messages are kept separate from email and text messages.
Ambs Startel Secure Messaging:
Lets you push encrypted messages to mobile devices
Sends large amounts of information quickly
Includes reporting and an audit trail of all messages with all message events
Issues persistent alerts to the recipient's mobile device, helping ensure immediate action
Allows you to designate a High Priority message, which is displayed at the top of the message list
Organizes your messages by subject
Provides encrypted "message delivery" receipts, indicating that the device received the message
Sends encrypted "message read" receipts, indicating that the recipient has opened the message
Allows the recipient to reply to a message with an encrypted message
If you are interested in deploying secure messaging in your organization, contact our sales department at (800)968-1181.
About Aaron Boatin
Aaron Boatin is President of Ambs Call Center, a virtual receptionist and telephone answering service provider. His passion is helping clients' businesses succeed. Melding high tech with high touch to provide the best customer service experience for clients is his core focus.